Electromagnetic (EM) Properties of Materials
---
The dielectric or electromagnetic properties of a substance are essential parameters in material engineering and technological development. The electromagnetic properties of materials include the complex permittivity, complex permeability, conductivity and dielectric loss. Nowadays, with the rapid growth of new forms of communication, IoT and metamaterial development, understanding material properties is fundamental. The electromagnetic characterization of materials, besides providing information on the electric and magnetic behavior of the substance, additionally, provide insight on many other structural features. The state, structure, temperature, and the heterogeneity of materials, as well as the concentration of a solution, can be assessed through electromagnetic characterization.
Read More
Technological Applications of EM Measurements
Enhance performance in Telecommunications and Multimedia development, by understanding the impact of material substrates on antenna performance.

Determine Moisture Content in soils and hydrocarbon compounds by a dielectric characterization of materials or solutions, in a non-destructive manner.

Provide critical data on material degradation, dryness or sedimentation of fast-paced ageing of materials and structures with temperature variations and over time in the construction and aviation industry.


EpsiMu® is a user-friendly dielectric measurement system that provides real-time data of the complex permittivity, complex permeability, conductivity and dielectric losses of any type of material on a frequency range of 1 MHz up to 18 GHz.

See our Frequently Asked Questions to find out more about the EpsiMu® products and services our download the EpsiMu® Datasheet or EpsiMu® Brochure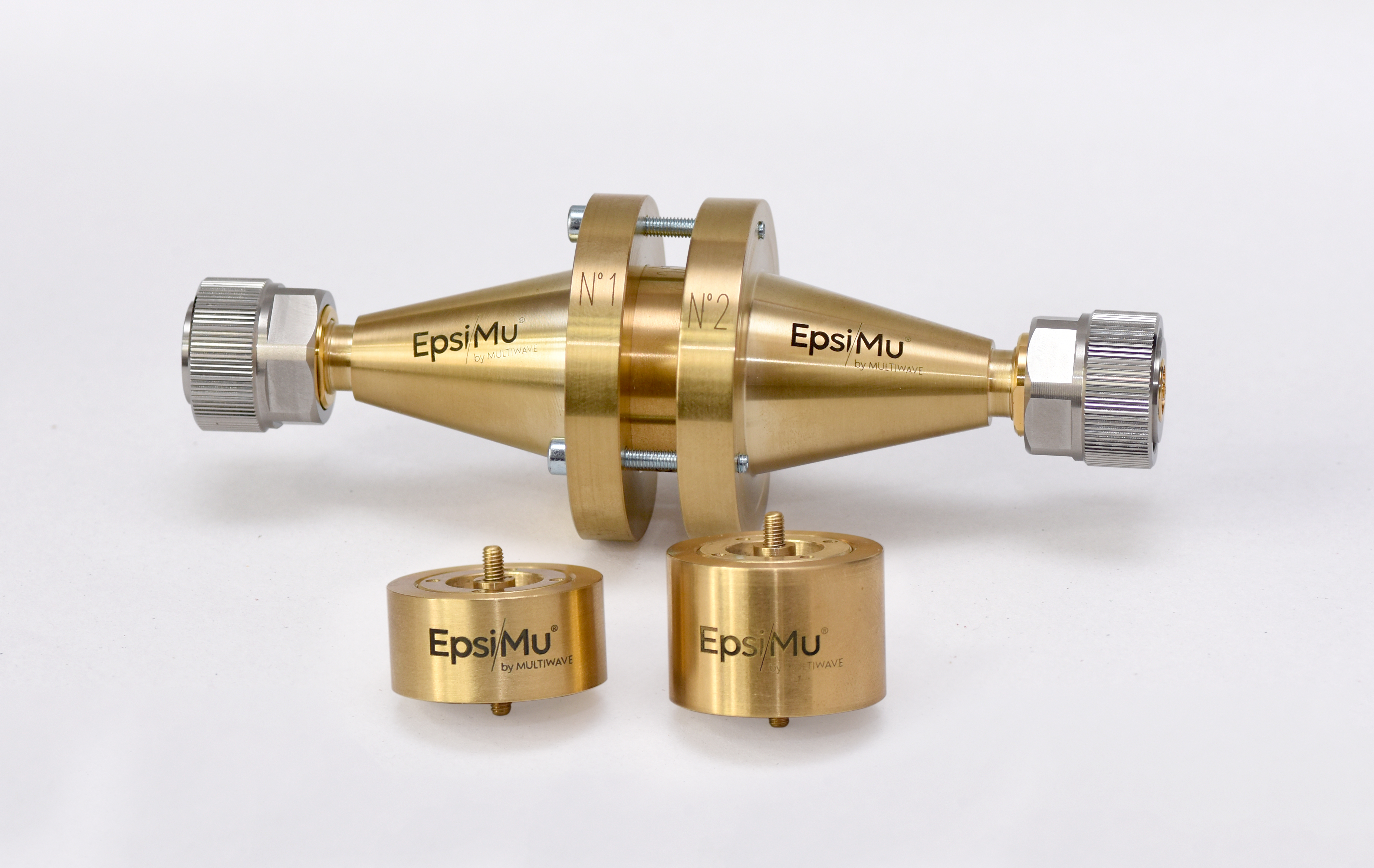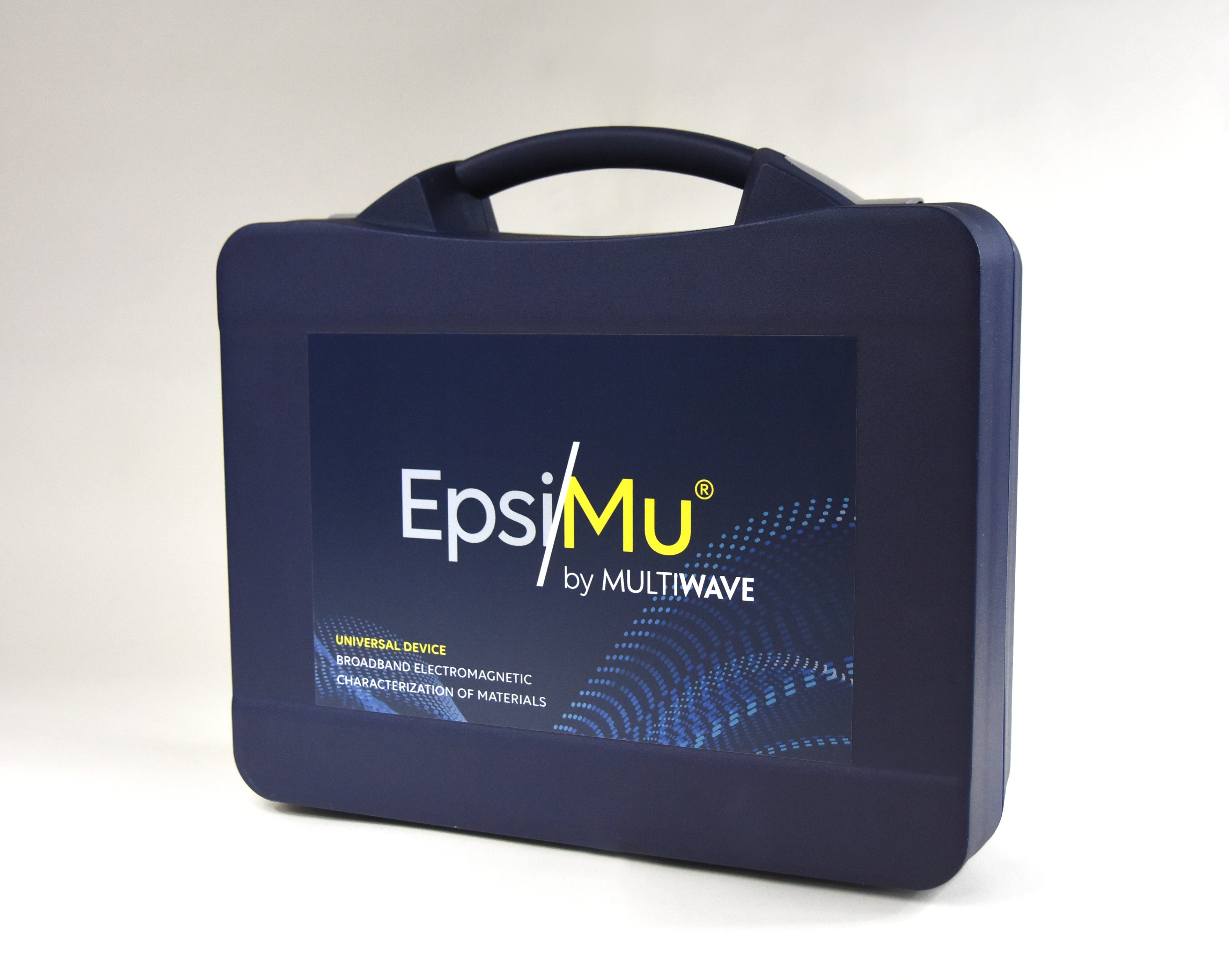 What is the difference between EpsiMu® PE13 and EpsiMu® 7mm?
Two different products for two different requirements; EpsiMu® 7mm is a cell specially conceived to measure the dielectric properties of low thickness solid samples with extreme precision. EpsiMu® 7mm cell covers a frequency range between 1 MHz to 18 GHz. EpsiMu® PE13 has been especially developed to confine materials other than solids; with a detachable and watertight sample-holder, to measure liquids ranging from a few cm3 to hundreds of cm3 (or any other customizable volume). EpsiMu® PE13 measures dielectric properties covering a frequency range between 1 MHz and 8 GHz.
Read More
What type of materials can I measure with EpsiMu®?
Solid material measurements can be achieved with both EpsiMu® PE13 and EpsiMu® 7mm – thus, up to 18 GHz. Liquids, gels, powders and granular material, measured with the PE13 sample-holder system, can be measured up to 8 GHz.
Read More
What's the measurement accuracy?
Measurement accuracy can greatly vary with the shape of the samples, especially in the case of solid materials. The real part of permittivity accuracy usually ranges between 2% to 5% for liquid and powder samples, and for precisely cut solids. The imaginary part of permittivity as well as the permeability accuracy ranges between 5% to 10%.
Read More
How much sample volume/thickness is necessary to have a measurement accuracy of 5%?
Solids: solids need to be shaped into a washer of specific dimensions; the minimum thickness required for a precise measurement is 1.5mm. Liquids, powders, etc.: a minimum volume of 0.65 cm3 is necessary for accurate measurements.
Read More
Is it possible to measure unusual, toxic and/or fragile materials?
Yes; the EpsiMu® PE13 system comprises a removable and watertight sample-holder. It is possible to prepare toxic materials under a confined environment, such as a fume hood, or fragile materials in an environmental chamber. Once the material is inserted, the closed sample holder can be placed on a test bed to conduct measurements with complete safety and without compromising the integrity of the fragile materials.
Read More
What is the frequency range I can explore with the EpsiMu® cells?
Measurements with EpsiMu® PE13 can range from 1 MHz to 8 GHz. Measurements with EpsiMu® 7mm can range from 1 MHz to 18 GHz.
Read More
Do I need a Vector Network Analyzer?
The Vector Network Analyzer (VNA) is required for determining the electromagnetic properties of a material. To use the EpsiMu® cells, you'll need a calibrated precision VNA. If you do not have a VNA, we will be happy to propose our complete system: the EpsiMu® kit, EpsiMu® software, connectors and an Anristu Shockline™ VNA, with two frequency options.
Read More
Is there an associated software?
Yes, both EpsiMu® measurement devices have a dedicated EpsiMu® software that allows direct acquisitions with your VNA (please check VNA compatibility) and display of the dielectric parameters.
Read More
Is my Vector Network Analyzer compatible with the EpsiMu® software?
Currently, EpsiMu v4.0 works with Anristu MS20XX series, as well as the Anritsu Shockline™ series, Keysight E5071, Keysight Fieldfox, Keysight (or Agilent) N5222, Rohde&Schwarz ZNB and ZVA. These models are compatible with the software, allowing the user to do direct acquisitions. If your VNA is not compatible, a VNA .s2p file (containing the S Parameters of the measurement) can be saved and then imported into the EpsiMu® v4.0 environment for data processing. We are working on Epsimu v5.0 to ensure compatibility with more devices.
Read More
What does the EpsiMu® complete kit include?
The EpsiMu® kit includes: (a) EpsiMu® PE13 and/or EpsiMu® 7mm; (b) 2 sample holders (if the EpsiMu® PE13 cell is included); (c) 4 assembly tools; (d) 1 sample polishing tool; (e) 2 Teflon standard samples; (f) 2 connectors, customized to your coaxial cables. If you do not have a Vector Network Analyzer, we suggest our complete autonomous system, (a) EpsiMu® kit (with one or two of the measurement cells); (b) Anristu Shockline™ VNA (8 GHz or 20 GHz option), with calibration kit; (c) Coaxial cables, type N; (d) Transport and storage rigid case.
Read More
I only need to measure one sample; do you provide dielectric measurement services?
Yes. If you wish to characterize a reduced number of samples, we offer a measurement service. We provide simple electromagnetic characterization of your samples on a chosen frequency range, or full reports on moisture content and ageing of your samples over time and/or with temperature. Request a quote today!
Read More
Download
here
our General Terms and Conditions of Sale.